Town Wide Tag Sale
At our 2014 Event, we raised over $1,000 for the First Congregational Church of Pomfret to help rebuild their church destroyed by a winter fire. Since its inception in 2006, we have raised and donated thousands of dollars to local causes and organizations.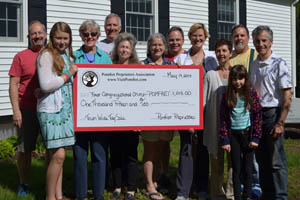 Created and organized by the Pomfret Proprietors Association in 2006, this popular town-wide annual event draws people from far and wide to enjoy tons of tag sale bargains (usually 50 to 60 locations) and to help support other local fund-raisers.
JOIN US FOR THE 11TH ANNUAL TOWN WIDE TAG SALE!
Click on links below for all the details about the 11th Annual Town Wide Tag Sale on
Sat, May 6, 2017...
REGISTRATION FORM (for Pomfret residents, businesses and other organizations) Deadline, April 24, 2017
MAP ADVERTISING information (to buy an ad on the reverse side of the map)
Deadline, April 24, 2017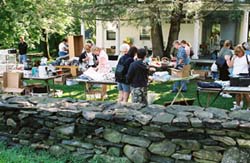 Photo credit: Jim Goodwin
"Just wanted to say thank you...our tag sale we had at our house was a great success with lots of people and sales. The day was enjoyed and we met some really nice people from places both in and out of state."
Best wishes, Julie Long
A Note to Pomfret Residents:
Profits from tag sale registration fees & map sales support an annual contribution to a local charity or community event. Please support your town by registering for the Tag Sale!
In 2015, we donated $500 to support our all-volunteer staffed Pomfret Times newspaper!